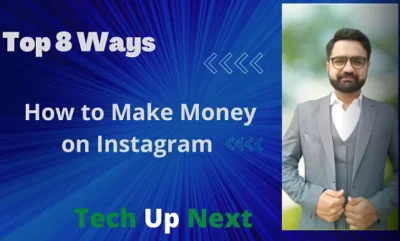 As one of the most rapidly expanding social networking sites, Instagram has amassed over one billion active members in a short time.
It has changed over the past several years from being a basic photo-sharing software to an effective internet marketing tool that influencers and companies of all sizes are utilizing to reach their target audiences.
According to Instagram Business, 60% of people utilize this medium to discover new products, 80% of users follow at least one brand, 200 million accounts view a business profile daily, and 66% of profile visits come from non-followers.
Instagram social media marketing is at an all-time high, much like Tiktok and Facebook.
You need the right business strategy in addition to more followers if you want to figure out how to monetize your Instagram account.
This article will discuss the best methods for starting to make money on Instagram 2023.
How to Make Money on Instagram in 2023.
Instagram has the potential to be a very lucrative platform for users. According to a recent Hopper HQ story, Kylie Jenner receives payment of almost $1.2 million for each Instagram post. Your predicted revenues will vary if you are not one of the most well-known celebrities in the world based on factors like count, engagement, reputation, and more.
We'll go over the best ways to monetize Instagram in 2023.
Promote links from affiliates.
To make money with affiliate marketing, you need to join high-paying affiliate programs so you can add affiliate links to your Instagram and get a cut of the sales you bring in.
Instagram Programs for affiliates
Affiliate links can bring in a lot of money if they are used correctly.
The Blog Income Reports on this site show that I make more than $80,000 per month, mostly from affiliate programs.
Join affiliate networks like Shareasale, Clickbank, Awin, and Impact to do this. You can also join individual affiliate programs right from a company's website or by searching for "COMPANY + affiliate program."
Because Instagram has a large number of active users, it is a great place to promote affiliate links.
No matter your followers on Instagram, you can add a link to your Instagram bio that people can click on. For example, Sophie Shohet, a fashion blogger, uses this feature for advertising affiliate links:
Sophie Shohet Instagram
Sophie has more than 80,000 followers, so she can also make Instagram Stories that can be clicked on. And here's how she promotes affiliate links in her posts and on her profile:
Sophie Shohet Instagram 2
People who follow you on Instagram pay close attention to your posts, so putting affiliate marketing links in captions is a great way to get their attention.
But links in Instagram posts can't be clicked on, so adding a URL isn't the best idea because people will have to manually copy the link from your text.
So, it's better to write a call to action that tells your readers to click on the link in your bio. One thing to keep in mind is that it's important to let people know about affiliate links, since you get a cut of every sale.
You can sell both physical and digital goods.
Over the past few years, Instagram has become a great way for the right eCommerce store to make a lot of sales.
People do use Instagram to find and buy things, so they added more shopping features to business accounts, such as in-app checkout, the shop button, product tags, and shoppable stickers, to make shopping easier.
Square Online is a brand-new tool you can use to sell things on Instagram.
This tool takes Instagram posts from your feed and turns them into a fully shoppable website in 3 easy steps:
Link your business Instagram account to Square.
Tag the things you want to sell in your Instagram posts.
Click "Publish" to get your own website up and running.
Square is on Instagram online.
It's hard to sell things online with just Instagram, so it's also a good idea to have a website. And Square Online's new tool makes it very easy to do this.
You don't have to pay anything to get started with Square Online. Instead, you only pay transaction fees. Then, when you're ready to build a site with your own domain, you can switch to a paid plan.
You can also choose an ecommerce platform or website builder to start an ecommerce website and then use Instagram as another marketing channel.
If you're just starting out, you could also start a dropshipping business so you don't have to ship your own products or deal with returns.
You could also learn how to sell on Amazon and use Instagram to spread the word about your products.
In either case, you need to add links to your Instagram content.
Just write a call to action and put a link to your website in it so that people who are interested can find out more.
And if you have switched to an Instagram creator account, you can make shoppable posts to sell physical products in the app. See how it was done by Katie Sturino:
Katie Sturino Instagram
People buy all kinds of things on Instagram, from cheap cosmetics and used clothes to high-end apartments and expensive cars.
No matter what you sell, there are probably people who could buy it. But it's essential to find your niche and check out the competition by searching for hashtags and keywords you want to use.
Sponsored Posts should be made.
According to Social Toaster, influencer marketing is on the rise. 92% of people trust word-of-mouth recommendations, 76% say they're more likely to trust content shared by regular people than brands, and 82% of customers want recommendations from friends before making a purchase decision.
People want to hear what their peers think, so it makes sense that more and more brands are reaching out to influencers to get shoutouts for their brands.
Since Instagram users want to know who paid for a post, the Federal Trade Commission (FTC) rules for online advertising say that all influencers need to say when a post was paid for. And this is how a sponsored post on Instagram might look:
Daphne Oz Instagram
Daphne Nur Oz is a popular TV host with over 387k followers, so it's no surprise that big brands like J.Crew reach out to her to join an already-established community of engaged Instagrammers.
Do you want to know what's best? You don't need a lot of followers to make money with sponsored posts. Most brands pay close attention to the engagement rate when choosing the right influencer, so even big brands like Dunkin' want to work with nano- and micro-influencers.
Because these influencers meet most of their followers in person, they get better results, which means you can get an offer even if you don't have 1,000 Instagram followers.
Become a Brand Ambassador.
Sponsored posts work well on Instagram, but most companies want to build long-term relationships with influencers, so they look for brand ambassadors who can regularly promote a company in a good way.
Since Instagram is the most popular place for influencer marketing, it's a great place for people to find brand ambassador programmes and work with companies to promote their products. Large companies also often send influencers free products so they can review and promote them.
Jay Alvarrez is a lifestyle blogger who posts photos and videos on his Instagram and YouTube channels. Brands want to work with him on a long-term basis because he has more than 6 million loyal fans who are very involved in his community.
Brands not only want Jay to be a brand ambassador, but they also want him to make capsule collections and products with both of their names on them. In 2018, he worked with the Norwegian company Douchebags to create a line of travel and luggage bags.
Jay Alvarrez Instagram


Most brand ambassadors have contracts with the companies whose products they are promoting. And for better results, brands need to find an influencer whose followers are made up of people who are like the target audience. This is a great way for ambassadors to make money, since the average salary for a brand ambassador is between $40,000 and $50,000.
Because their fans are more engaged, micro-influencers in a specific niche are often more valuable to brands than big celebrities.
Make visual content that you can sell.
People post more than 100 million photos and videos every day on Instagram, so it's not a secret that it's a visual platform. But brands can't just post overly polished professional photos of their products to stand out.
Customers today want real things, so they pay close attention to content made by users.
Most consumers think that UGC is 35% more memorable than other media, so businesses of all sizes want to publish content made by their customers. It's a simple way of saying that it's your chance to sell photos and videos you make.
In the travel industry, companies of all sizes ask real travellers to take photos of their experiences at brand properties in exchange for free stays and money.
Here's what I mean:
Jumeirah Vittaveli Instagram
In the travel industry, putting out user-generated content gives great results.
For example, a small town in New Zealand called Wanaka saw a 14% rise in tourism after working with Instagram influencers who posted pictures of the town on their profiles.
But unless you have a huge following, I don't think this is a good idea. Nothing bothers hotel owners more than when a fake influencer asks to stay for free.
It's no secret that Instagram has a lot of sales potential, so more and more brands want to use it to promote their products, reach their target audience, and boost sales. Business Instagram says there are more than 25 million businesses and 2 million advertisers on the site.
As the market gets more crowded, brands need help from professionals if they want to stand out. In other words, people want to use social media marketing services a lot.
As an example:
Jenn Herman is a niche expert in Instagram. She writes for Social Media Examiner and has worked with large companies. Jenn Herman provides a wide range of services today, such as social media strategies, consultations, and training. What's that? Jenn advertises her services for social media marketing on Instagram: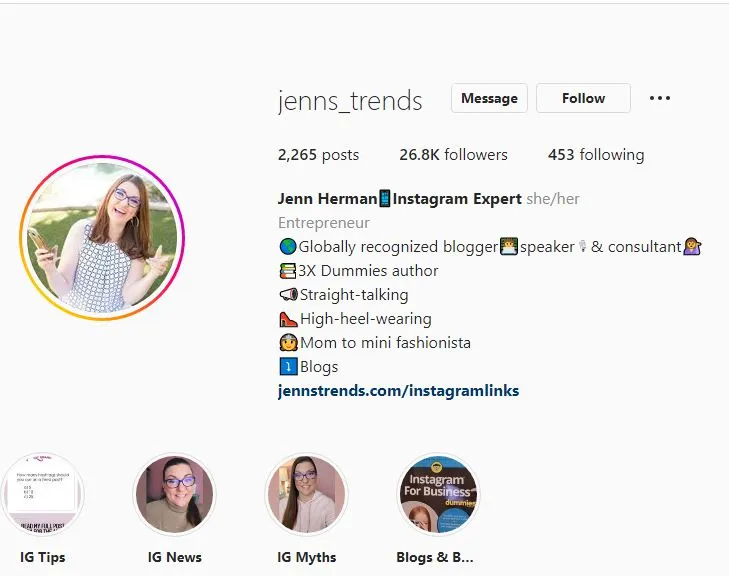 Jenns Trends Instagram
Brands want a variety of social media marketing services, from training and guidance to monthly support. This means that people who are good at social media have many chances to find freelance jobs and make the most of what they know on Instagram.
Big brands used to be the only ones who could afford to market on Instagram, but those days are long gone. Today, brands of all sizes want to use this platform to promote their products and services, and 92% of small businesses plan to put more time and effort into social media marketing.
Big brands have great content creators on staff, but small business owners often look for freelancers to save money on social media marketing. So, they often want to find low-cost creative professionals who can write captions for their businesses.
If you look at Freelancer and Upwork, two of the most popular online workplaces, you'll find hundreds of offers like the one below:
Upwork Marketing on Social Media
To get a full-time job offer, you need to show that your application stands out from the rest. The best way to do this is to show your social media marketing writing portfolio. Also, you need to be creative with how you run your Instagram page so that potential employers can see examples of the captions you write. More potential clients will be interested in your business if your captions are creative and interesting.
You can add masks and filters to Instagram stories ideas .
When Instagram Stories came out in 2016, it was a copy of Snapchat's short-lived content. No one could have predicted how popular this type of content would become.
Over 500 million people watch Instagram Stories or make them every day. People are very interested in this kind of content because it is only available for a short time. It also gives brands more chances to hook their target audience.
Also, businesses make Instagram Stories masks and filters to show that they are experts in a certain field and to promote their products. Some companies have designers on staff who make filters for their brand, while other companies want to work with people who are good at making Instagram masks and filters.
And if you like to be creative, you can make money on Instagram with the Spark AR Studio, which lets anyone make AR filters for Instagram Stories. Brend Cardenas, for example, uses her Instagram account to promote the Instagram filters she makes:
To make money on Instagram, how many followers do you need?
It depends on your industry and how many followers you need to make money on Instagram. While you can make money with 1,000 or 1 million followers, focus on engagement.
Micro-influencers with highly-engaged audiences are more valuable for brands than celebrities with millions of followers. We want users to take action – leads, email sign-ups, and sales – not just impressions and views.