Whether you're getting ready to tear down an old building on a construction site or are considering starting a demolition project in your home, it's essential to understand the materials present during the demolition process. Demolition can involve everything from ripping out an entire structure to removing certain sections and components. Regardless of the demolition project's scope, knowing what materials will be present during the job and how they should be handled is essential. This article aims to provide a comprehensive overview of the materials a good demolition contractor needs to know when demolition is underway.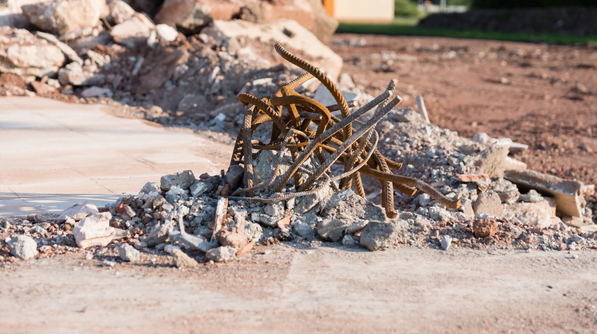 Each country's occupational health and safety act mandates the safe removal of hazardous materials in demolition processes. It also ensures that all workers in the demolition job know the composition of the waste they are dealing with and how to dispose of it properly.
Demolition materials can be classified as hazardous and non-hazardous.
That said, let's now explore the materials typically present during demolition:
Metallic Waste
The first type of material commonly found in a demolition job are metals. Metals make up hardware components, like piping, cables, wires, nails, screws, and other fasteners. While you can recycle some of these items in an environmentally friendly manner, others are hazardous and need to be disposed of appropriately according to regulations.
Hazardous Metals – Hazardous metals include cables containing coal tar, oil, and other hazardous materials. These items must be safely removed and disposed of according to relevant regulations to protect workers from potential health risks.
Non-Hazardous Metals – Besides hazardous metals, there can also be non-hazardous metals present during a demolition job. Examples include:
Lead – Lead is used in roofing, window frames, and other surfaces present in buildings like churches.
Aluminum – This is found in windows, doors, and other areas of a building.
Copper – Copper is used for wiring and electrical components.
Iron and steel – Iron and steel are used for reinforcements, beams, columns, and other structural elements.
Concrete, tiles, ceramics, bricks
The bulk of a demolition job usually consists of concrete, tiles, ceramics, and bricks. And most of these materials are not hazardous and can be recycled in an environmentally friendly manner.
However, it's important to note that some tiles, ceramics, and bricks may contain asbestos fibers, which is hazardous to workers' health.
Glass, Wood, and plastic
Glass, wood, and plastic are commonly found in demolition jobs. Fortunately, these are usually non-hazardous materials and can be recycled or reused.
Treated glass, wood, plastic – Some construction materials may have been treated with hazardous chemicals, such as flame retardants or adhesives. Understanding the composition of these materials and how to safely handle them before attempting any demolition job is essential. Find out Tips to Keep Your Locks from Freezing
Insulation and asbestos materials
Asbestos is known for its fire-resistant properties, making it a popular building insulation material. However, the downside of asbestos is its carcinogenic properties, making it hazardous to workers' health.
Bituminous mixtures, coal tar and tar
Bituminous mixtures are common components of roofing or paving materials. These materials are non-hazardous and can be handled with minimal safety risks.
However, some bituminous mixtures may contain coal tar that's known to be carcinogenic. Similarly, coal tar may be used as a stand-alone material in the construction of older buildings and must be handled with care.
Paints and varnishes
Almost all demolition jobs involve the removal of paint and varnish coatings. While these materials are non-hazardous, those containing organic solvents are classified as hazardous and must be disposed of safely.
Adhesives and sealants
Adhesives and sealants are found in almost every building. The composition of these materials can range from non-hazardous to hazardous, so it's essential to review the product composition before attempting any demolition job.
Adhesives and sealants containing organic solvents are classified as hazardous waste, so you must take precautions to ensure they're disposed of properly.
Arsenic
Arsenic is a highly toxic element that is used to pressure-treat wood. It's essential to take precautions when removing any pressure-treated wood from a demolition site since arsenic-contaminated sawdust can lead to adverse health effects.
Mercury
Mercury is a common component of electrical devices such as switches, thermostats, and fluorescent lamps. Therefore you should identify the presence of mercury in a demolition job site before attempting any work.
Demolition jobs involve a variety of materials that can be hazardous or non-hazardous. To ensure the safety of workers and the environment, properly identify all potential risks before attempting any demolition job. Adhering to safety protocols and understanding the composition of materials is key when carrying out demolition work.