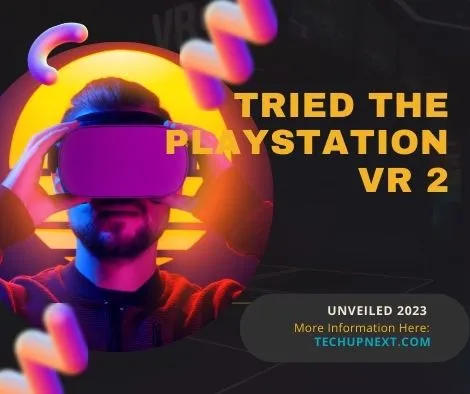 Sony's PlayStation VR2 will not be available until next year, but it finally let the press see and handle it after months of teasing. The new headset appears to be a big improvement in almost every way over the first PSVR, even after just a few hours with it.
Let's start with the hardware, as we already know a lot about it. You only need one USB-C cable to connect it to your PS5, which has a much more modern look than the PS5. The headset has an OLED screen, a 110-degree field of view, 4K HDR, and supports frame rates of 90Hz and 120Hz for smoother gameplay.
Unlike its predecessor, you won't have to set up external cameras to track your movements. Instead, the headset has four cameras built into the front of the display. Like the DualSense, the new orb-shaped PSVR2 Sense controllers have adaptive triggers and haptic feedback, and they can also sense when your finger touches them.
On a table is the PlayStation VR2 headset.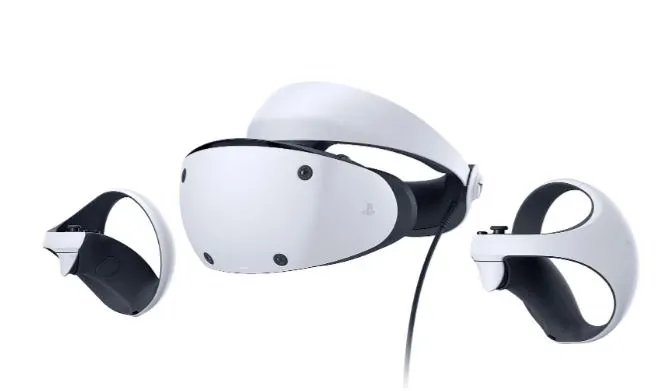 The headset is over here for Virtual reality gaming.
But how does it feel to play games on the PSVR2, with all of its new bells and whistles? The PSVR2 hardware itself was a pleasure to use. Like most modern VR headsets, you can adjust the head strap to make sure everything fits comfortably on your head.
You can also change the inter-pupillary distance (IPD) so that the lenses inside the headset are the right distance for you. Even though the screens looked great, things could sometimes feel a little fuzzy around the edges, just like with the first PSVR.
The new Sense controllers from Sony were a big step up. The first PSVR used Sony's Move controllers, which you may remember looked like strange wands with glowing balls on end. These controllers had a few problems. The first version of the Move controller used a Mini USB port for charging, and the original PSVR setup had trouble tracking the glowing balls, which took away from the VR experience. Sony fixed the last complaint by switching to Micro USB, which maybe wasn't a big improvement but was still a good change.
On the other hand, it looks like the Sense controllers will be a lot better. The haptics was great, which may not be a big surprise if you've used the DualSense and felt Sony's great haptics. Touch detection was a great way to interact with virtual reality worlds.
You can pick up weapons, but you can also move your fingers more naturally and interact with things more naturally. It wasn't perfect, and we couldn't use it in every game we tried, but when it did work, it made the game feel more real.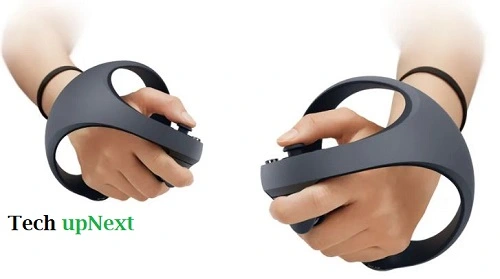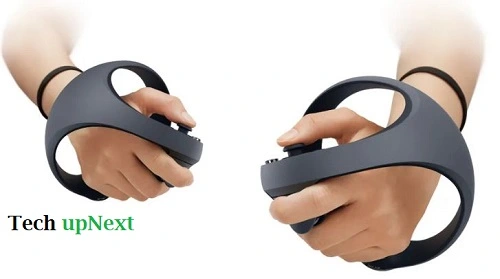 The left and right PSVR2 sense controllers are in a person's hands.
And here's how the Sense controllers look when you hold them.
The PSVR2's set up with just one cable was a big plus. The first PSVR needed an extra box and a bunch of cables to work, but the PS5 only needed one cable plugged directly into it. (But it's not as nice as a headset like the Meta Quest series that doesn't need any wires.) And most VR games require you to stop playing every so often so you don't get a headache. But the PSVR 2 didn't have as much trouble with that. You can keep going for a long time without getting tired.
As for the games themselves, we got to try Horizon: Call of the Mountain, a PSVR2-optimized version of Resident Evil Village, The Walking Dead: Saints & Sinners Chapter 2, and the just-announced Star Wars: Tales from the Galaxy's Edge Enhanced Edition.
Horizon: Call of the Mountain was the most advanced in terms of technology, probably because it was made from scratch for the PSVR2. The game has a great sense of scale, and when a huge mechanical dinosaur walked right over my head, it felt like I was in a Jurassic Park that had been destroyed. Rock climbing was also a lot of fun, as long as you didn't look down into the holes below. When you touch something with the new Sense controllers, they vibrate. This makes it feel even more real when you draw your bow and shoot an arrow. We were also blown away by how much thought went into making a world where people could interact with each other. Can't you just… throw dishes and boxes off a cliff? Yup! Can you take a hammer and hit a gong even though it has nothing to do with the story? Yes, also!
In the PSVR2 game Horizon Call of the Mountain, this is a screenshot of a player holding a bow and arrow.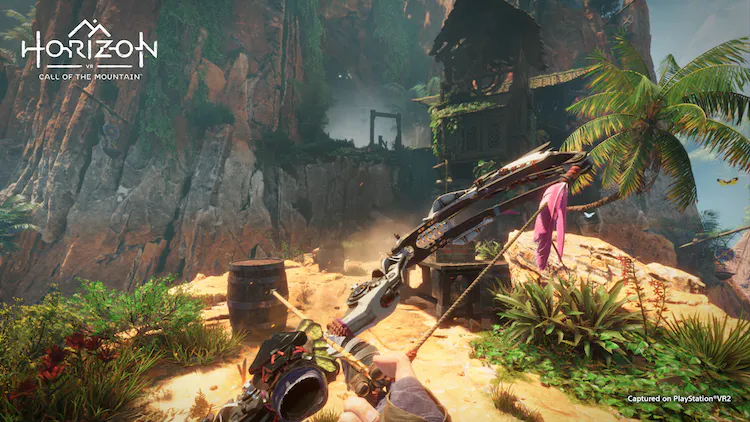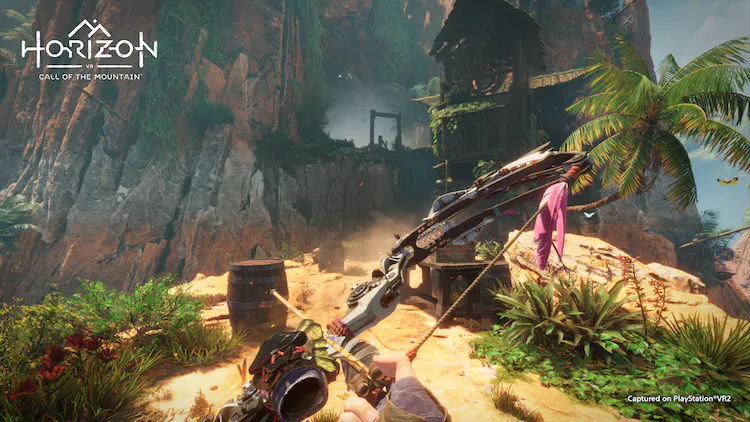 In Horizon: Call of the Mountain, a bow and arrow. Image: Sony
Even the other games were enjoyable. It was a creepy experience playing Resident Evil Village, and it is quite frightening when the dead get close to you. Ethan Winters endures a great deal. You can devise your own methods of killing walkers in The Walking Dead: Saints & Sinners Chapter 2. Making zombie-shish kebabs with a katana is much more enjoyable than cutting them with a chainsaw.
Do you want To Download Free games? With The MegaFamous platform like Archero Video Game
Is there anything we still don't know? At the hands-on event, Sony did not mention the price. The PlayStation VR2 headset should be priced competitively (maybe around $400) to entice PlayStation gamers to buy it since Meta's high-end Quest headset is on its way (a prototype of which leaked this weekend) and Apple's long-rumored "Reality" headset appears to be close to release.
Must read y2mate 2023